Sculpting and bringing harmony and balance to a face is both exciting and rewarding. With the use of Botox cosmetic and Dermal Fillers such as Juvederm, Juvederm Voluma and Radiesse, it is now possible to transform the square jawed face to a more oval feminine face. While surgical procedures to enhance facial shape is an option, the risks, costs, and permanence of surgery make it a less attractive option for most.

We offer a variety of cosmetic treatments to enhance your own unique beauty and help you develop more self-confidence. These treatments provide various results, all with the goal of helping you feel better about yourself in every situation.

For instance, BOTOX Omaha, NE treatments are a nonsurgical option to reduce the appearance of fine lines. The CoolSculpting fat freezing, fat reduction procedure can melt fat away for good. And Ultherapy non-surgical facelift is able to sculpt your body using the power of ultrasound energy. People who suffer from severe underarm sweating, known as primary axillary hyperhidrosis which impacts both men and women, can now seek permanent treatment with BOTOX. We have a non-surgical alternative to suit many common health conditions.
Other procedures offered include Juvederm, which smooths out lines from around your mouth and nose. Radiesse treatment stimulates the body to begin making its own collagen to smooth out lines and wrinkles. A prescription treatment, Dysport, helps reduce frown lines without treating other areas. Peels and other procedures treat specific issues to enhance a person's appearance.

This treatment takes about 10 minutes and consists of a few small injections. Within days this procedure creates a noticeable improvement in moderate to severe frown lines between the brows. The results of this short procedure can last for up to 4 months. Results may vary. We use Botox® Cosmetic to decrease the severity of facial lines, lines between the brows, forehead lines, and around the eyes (crow's feet).
BOTOX® Cosmetic is the first FDA-approved product that temporarily improves the appearance of moderate to severe frown lines and moderate to severe crow's feet in adults.
BOTOX® can smooth, flatten and relax:
Horizontal creases on the forehead
Vertical creases between the eyes; known as the elevens (11s) – (the glabella area)
Wrinkles on the temple side of the eyes, the "crow's feet"
Wrinkles on the sides of the nose, "bunny lines"
Wrinkles on the upper lip, pursed lips
A quick and simple 10-minute proceure consisting of a few tiny injections where results are typically seen in days and continue to improve during the first two weeks after the treatment.
There is a small chance of slight bruising at the injection site, which is very temporary and can be easily covered with makeup. Depending on the individual and the dosage, the effects commonly lasts from 3 to 4 months, with a few people who claim a little over 6 months and a few claim less than 3 months. Results may vary. That's a good amount of time for these dynamic lines to get a nice filling effect.
Kybella is the only FDA approved injectable treatment of its kind.
What is it for?
---
Kybella works to get rid of submental fullness, also known as double chin. Sometimes exercise and a good diet can't get rid of stubborn under-chin fat. Remember, it targets fat, not loose skin or muscle. Think of Kybella as injectable lipo more than an injectable facelift.
Kybella is a 15-20-minute-long non-surgical procedure. It involves the injection of synthetic deoxycholic acid. That name sounds intimidating, but deoxycholic acid is found naturally in the body. It aids in the breakdown and absorption of fat. The amount of injections received in one treatment depends on the amount of fat that needs to be destroyed. Usually there will be 2-3 vials of Kybella (or 12-20 injections) used, but up to 50 injections can be done in one treatment. One can get up to 6 treatments, with at least a month of downtime between each.
Will I be done after one treatment?
---
No, in fact it usually will take 3-5 treatments to see results. 59% of people in clinical trials got 6 treatments, the maximum. Results take 4-6 weeks to show up after the injections. Once you get the desired results or up to 6 treatments, the fat cells will not come back.
Will there be any side effects?
---
You will probably experience some swelling, bruising, or numbness under your chin. This is normal, and this is temporary. 3-4 days after the first treatment especially, there will be swelling under your chin that may make your neck look like a "bullfrog."
When can't I use Kybella?
---
You cannot use Kybella when you are pregnant, breastfeeding, if you have an infection in the treatment area, or have had trouble swallowing.
So now that you have decided whether Kybella is right for you, the next step is to find a licensed and specially trained injector to perform the treatment on you! You can find that here at Faces MedSpa
KYBELLA®
KYBELLA® is the only FDA-approved injectable treatment that destroys fat cells under the chin to improve your profile.
Before receiving KYBELLA®, tell your healthcare provider about all of your medical conditions, including if you: Have had or plan to have surgery on your face, neck, or chin; have had cosmetic treatments on your face, neck, or chin; have had or have medical conditions in or near the neck area; have had or have trouble swallowing; have bleeding problems; are pregnant or plan to become pregnant (it is not known if KYBELLA® will harm your unborn baby); are breastfeeding or plan to breastfeed (it is not known if KYBELLA® passes into your breast milk; talk to your healthcare Provider about the best way to feed your baby if you receive KYBELLA®).
---
A New Dimension in Body Sculpting for Omaha, NE
TruSculpt® takes a multi-dimensional approach to body sculpting and circumferential reduction by delivering clinically therapeutic temperatures to the subcutaneous adipose tissue to achieve the highest clinical efficacy in the shortest possible treatment time. This Targeted, Repeatable and Uniform approach ensures TRU 3D results are achieved.
TruSculpt is the only non-invasive RF platform to feature a proprietary closed-loop temperature feedback mechanism to ensure that therapeutic temperatures are met, patient comfort is maintained and clinical efficacy is achieved throughout each fifteen minute treatment session.
Discover an Incredible New Figure
---
"After delivering 2 children by C-section, I had excessive heaviness on my lower abdomen. I decided to try TruSculpt because I was looking for a treatment that would address my concerns without downtime. The TruSculpt 3D treatment was quick and easy to tolerate throughout the entire procedure. Now at 12 weeks, I see a noticeable difference in my abdomen—my pants fit better and skin even looks better. TruSculpt 3D is a great treatment for busy people who are looking for improvement without the downtime and headaches of surgery." — L.B.
TruSculpt features an optimized RF and delivery method to achieve selective, targeted disruption of the subcutaneous adipose tissue, while maintaining lower average surface temperatues

---
The Distinctive Blue Bellus Medical SkinPen Is A Safe, Effective Microneedling Device On The Medical Aesthetics Market.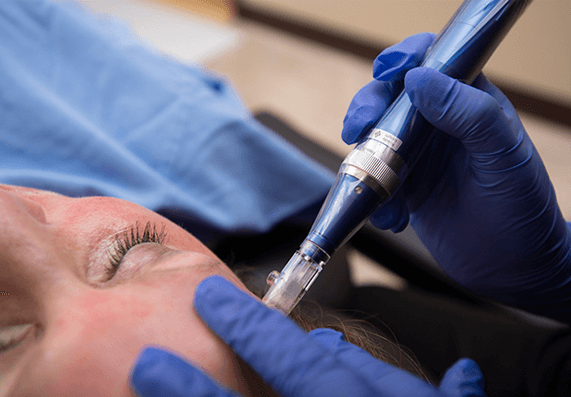 Microneedling with SkinPen® can help to improve your skins appearance, making it the market standard. How do you know if SkinPen® is right for you? If you're searching for:
A procedure that helps to reduce the appearance of fine lines and smooth wrinkles, SkinPen® may be used on all skin types.
A safe solution with little recovery time.
Results from a minimally-invasive procedure
A procedure for ongoing maintenance of healthy skin.
SkinPen® is different from traditional microneedling derma-rollers that can bend, break or even rust, resulting in possible infection or scarring with reuse.
SkinPen® uses adjustable length, disposable straight needles to penetrate at a 90-degree angle. This adjustability allows for differences in skin thickness and skin types. The vertical technology allows for extra precision